29

Mar
29 March, 2020. 5th Sunday of Lent
1st Reading: Ezekiel 37:12-14
During the exile, God's people were like a pile of dried bones
(The Lord said to Ezekiel)
"Prophesy to my people and say to them, 'Thus says the Lord God: I am going to open your graves, and bring you up from your graves, O my people; and I will bring you back to the land of Israel. And you shall know that I am the Lord, when I open your graves, and bring you up from your graves, O my people.'
I will put my spirit within you, and you shall live, and I will place you on your own soil; then you shall know that I, the Lord, have spoken and will act," says the Lord.
Responsorial: Psalm 129
Response: With the Lord there is mercy and fullness of redemption
Out of the depths I cry to you, O Lord,
Lord, hear my voice!
O let your ear be attentive
to the voice of my pleading.
If you, O Lord, should mark our guilt,
Lord, who would survive?
But with you is found forgiveness:
for this we revere you.
My soul is waiting for the Lord,
I count on his word.
My soul is longing for the Lord
more than watchman for daybreak.
(Let the watchman count on daybreak
and Israel on the Lord.)
Because with the Lord there is mercy
and fullness of redemption,
Israel indeed he will redeem
from all its iniquity.
2nd Reading: Epistle to the Romans 8:8-11
In baptism we have died to sin, to rise to new life
Those who are in the flesh cannot please God. But you are not in the flesh; you are in the spirit, since the Spirit of God dwells in you. Anyone who does not have the Spirit of Christ does not belong to him. But if Christ is in you, though the body is dead because of sin, the spirit is alive because of righteousness. If the Spirit of him who raised Jesus from the dead dwells in you, he who raised Christ from the dead will give life to your mortal bodies also through his Spirit that dwells in you.
Gospel: John 11:1-45
Jesus's raising of Lazarus shows his divine power
A man named Lazarus was sick. He was from Bethany, the village of Mary and her sister Martha.  (This Mary, whose brother Lazarus now lay sick, was the same one who poured perfume on the Lord and wiped his feet with her hair.)  So the sisters sent word to Jesus, "Lord, the one you love is sick."
When Jesus heard it, he said, "This illness does not lead to death; rather it is for God's glory, so that the Son of God may be glorified through it." Accordingly, though Jesus loved Martha and her sister and Lazarus, after having heard that Lazarus was ill, he stayed two days longer in the place where he was. Then after this he said to the disciples, "Let us go to Judea again."
The disciples said to him, "Rabbi, the Jews were just now trying to stone you, and are you going there again?" Jesus answered, "Are there not twelve hours of daylight? Those who walk during the day do not stumble, because they see the light of this world. But those who walk at night stumble, because the light is ot in them." After saying this, he told them, "Our friend Lazarus has fallen asleep, but I am going there to awaken him."
The disciples said to him, "Lord, if he has fallen asleep, he will be all right." Jesus, however, had been speaking about his death, but they thought that he was referring merely to sleep. Then Jesus told them plainly, "Lazarus is dead. For your sake I am glad I was not there, so that you may believe. But let us go to him." Thomas, who was called the Twin, said to his fellow disciples, "Let us also go, that we may die with him."
When Jesus arrived, he found that Lazarus had already been in the tomb four days. Now Bethany was near Jerusalem, some two miles away, and many of the Jews had come to Martha and Mary to console them about their brother. When Martha heard that Jesus was coming, she went and met him, while Mary stayed at home. Martha said to Jesus, "Lord, if you had been here, my brother would not have died. Buteven now I know that God will give you whatever you ask of him." Jesus said to her, "Your brother will rise again." Martha said to him, "I know that he will rise again in the resurrection on the last day."
Jesus said to her, "I am the resurrection and the life. Those who believe in me, even though they die, will live, and everyone who lives and believes in me will never die. Do you believe this?" She said to him, "Yes, Lord, I believe that you are the Messiah, the Son of God, the one coming into the world."
When she had said this, she went back and called her sister Mary, and told her privately, "The Teacher is here and is calling for you." And when she heard it, she got up quickly and went to him. Now Jesus had not yet come to the village, but was still at the place where Martha had met him. The Jews who were with her in the house, consoling her, saw Mary get up quickly and go out. They followed her because they thought that she was going to the tomb to wep there. When Mary came where Jesus was and saw him, she knelt at his feet and said to him, "Lord, if you had been here, my brother would not have died."
When Jesus saw her weeping, and the Jews who came with her also weeping, he was greatly disturbed in spirit and deeply moved. He said, "Where have you laid him?" They said to him, "Lord, come and see." Jesus began to weep. So the Jews said, "See how he loved him!" But some of them said, "Could not he who opened the eyes of the blind man have kept this man from dying?"
Jesus, once more deeply moved, came to the tomb. It was a cave with a stone laid across the entrance.  "Take away the stone," he said.
Martha, the sister of the dead man, said to him, "Lord, already there is a stench because he has been dead four days." Jesus said to her, "Did I not tell you that if you believed, you would see the glory of God?" So they took away the stone. And Jesus looked upward and said, "Father, I thank you for having heard me. I knew that you always hear me, but I have said this for the sake of the crowd standing here, so that they may believe that you sent me."
When he had said this, he cried with a loud voice, "Lazarus, come out!" The dead man came out, his hands and feet bound with strips of cloth, and his face wrapped in a cloth. Jesus said to them, "Unbind him, and let him go." Many of the Jews therefore, who had come with Mary and had seen what Jesus did, believed in him.
---
Slow down, it's COVID Time
This is the time to be slow,
Lie low to the wall
Until the bitter weather passes.
Try, as best you can, not to let
The wire brush of doubt
Scrape from your heart
All sense of yourself
And your hesitant light.
---
The Lazarus Story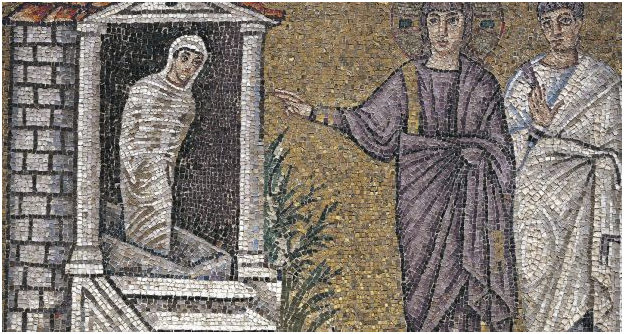 This story is found only in the Fourth Gospel, although the other Gospels do tell of people being raised from the dead (see Jairus' daughter, the son of the widow of Nain). Today's story, very much longer than these others, is the seventh (the climax) of the seven signs, which are: the Wedding Feast at Cana, Woman at the Well, the Royal Official's Son, the Loaves, Walking on the Water, the Blind Man and Raising of Lazarus. The writer has produced a moving drama, exploring in a very human way the teaching about Jesus and the resurrection. (Kieran O'Mahony)
For Kieran's exegetical notes on the Lazarus Story, click here.
---
A story of hope
Michael Commane
These days are different. Over the years I have visualised and fantasised about many happenings, even about my own demise; but I never visualised anything like the threat of COVID-19 that hangs over us all right now. Today's Gospel can offer us a needed ray of hope.
The raising of Lazarus is about life and death. St Paul in his letter to the Romans talks of the importance of the spiritual side of their lives. He believes that his Roman readers are interested in spiritual matters, and he puts that down to the fact that God has made his home in them.
The very idea that God makes his home in us gives hope that there is more to us than the physical body we inhabit. A central tenet of our faith is that there is more to us than the physical, tangible life of our mortal lifespan. We believe in resurrection, and from the day we are born we are constantly straining towards life with the risen Lord.
These last weeks are helping us all to take stock of our mortality and our hope for the future. In the prayers at Mass these days the words jump out at me. How apt and real they are, all the time assuring us, that peace, unity, the ultimate fulfilment of our human person is to be found in God. The Psalms, too, with their moving religious poetry, makes for great reading in these days of turmoil.
The Lazarus story, whether we take it literally or metaphorically, can be read as a message of hope. It encourages us to think outside the box, as we need to do these days, about life, its purpose and our ultimate destiny with God. In the midst of Covid-19, we can expand our horizons to renew our faith in God's love for us. We can transcend our everyday selves an let our spirits move beyond our usual earthly boundaries. This is no ordinary time. Stay safe.
---
To live life to the full
It feels odd to have the Lazarus Story already on the fifth Sunday of Lent, and especially while we are made so anxious by the COVID-19 emergency. No doubt it has made us all  more aware of our own mortality and of the fragile cord of life.
This Lazarus Story is linked to the resurrection but we must still get through the rest of Lent and the pathos of  Good Friday before we arrive at celebrating the triumph of life at Easter. Have the Church's liturgical engineers given us the miracle of Lazarus  too early? But in fact this text is more about death than resurrection. After all, logically, after his rescucitation Lazarus still had to face death a second time. This story apppears to be more about our mortal condition here and now than about our hope of resurrection. We will have time enough to consider the Easter mystery when we get to Easter Sunday and the weeks following it.
In his Spiritual Exercises, Ignatius of Loyola suggests that for each Gospel story we should try to put ourselves in the place of each character in turn and imagine how we would feel in those circumstances. This can be a challenging exercise. Can I try to put myself in the place of Lazarus? Lying cold in the tomb, I am dead to everything and then I hear a voice: 'Come out, Lazarus.' There I am, swathed in bandages, surrounded by darkness. What is our equivalent to his tomb, here and now?
Imagining ourselves in the place of a Gospel character can bring us fresh insights. Putting ourselves in Lazarus's place can show up imperfections in our lifestyle and make us long for a new spiritual freedom. This story features here in Lent to help us live life to the full. A close encounter with death can shock us into appreciating life. A loss or bereavement shows again what makes life worth living. Perhaps even the oppressive nearness of COVID-19 has made us re-assess our priorities and renew our trust in divine providence.
Jesus was a close friend to the two sisters and their brother. They always made him welcome in their home in Bethany, whenever he passed by on his way to Jerusalem. One day the sisters notified him, "Our brother Lazarus, your friend, is sick" but he delayed before setting out to visit them. When he got there, Lazarus was already dead. When the younger sister, Mary, saw Jesus she cried out in grief. When Jesus saw her terrible sorrow he was deeply moved and broke down in tears so that people remarked: "See how much he loved him!." He did not just cry for the death of a close friend. He shared in the anguish of everyone in the face of death.
Human beings have an insatiable will to live. Like the two sisters of Lazarus, we also wonder why do we have to die? Why isn't life happier, longer, more secure, more fulfilled? We too, like people in the time of Christ, feel in our hearts that burning question that is hardest to answer: what's going to happen when we die? What can we do in the face of death?
Most of the time we opt to just forget that question and "get on with living." But when the end finally comes, do we want to face it stoically, in silence? Concerning our final destiny neither science nor philosophy are of much help. I like the view of one writer who said: "Concerning death, reason tells me that it is final. But then, I guess that my reason is limited."
We Christians don't literally know any more about the afterlife than anyone else. Like all others, we are humbled by the inevitability of death. But we trust in the goodness of God, demonstrated in the life and words of Jesus. He is the Lord whom we love, and whom we trust with our very lives. He once explained his life's work in these words: "I have come that you may have life, and have it to the full" (Jn 10:10)
Like Martha, we respond with simple faith to our Lord Jesus who says: "I am the resurrection and the life." The Swiss theologian Hans Kung memorably said said that for him, dying meant "resting in the mystery of God's mercy." In the meantime we are called to live our lives to the full.
---
 A Prayer in Time of Corona-Virus
Almighty and All–loving God,
Father, Son and Holy Spirit,
we pray to you through Christ the Healer
for those who suffer from the Coronavirus Covid–19
in Ireland and across the world.
We pray too for all who reach out to those who mourn the loss
of each and every person who has died as a result of contracting the disease.
Give wisdom to policymakers,
skill to healthcare professionals and researchers,
comfort to everyone in distress
and a sense of calm to us all in these days of uncertainty and distress.
This we ask in the name of Jesus Christ our Lord
who showed compassion to the outcast,
acceptance to the rejected
and love to those to whom no love was shown. Amen.
Archbishop Michael Jackson

---
Cuirfidh mé mo spiorad ionaibh
"Cuirfidh mé mo spiorad ionaibh agus mairfidh sibh." Dúradh é sin do phobal Iosrael i ndeoraíocht na Baibealóine sa séú céad roimh Chríost. Bhí na deoraithe á rá: "Tá ár gcnámha seargtha agus ár ndóchas caillte; tá deireadh linn". Ag caint go meafarach, bhíodar amhail is bheith básaithe, faoi chré, san uaigh. Deir Dia leo nach amhlaidh atá. Tá sé chun a phobal a thógaint óna n-uaigheanna, agus spiorad na beatha a chur iontu arís, le go mbéadh beatha úr acu ina dtír dhúchais. Aiséirí an phobail atá anseo. Nil tagairt ann do aiséirí pearsanta na colainne. (Máirtín Mac Conmara)